Featured Resources
3-D Printers for Libraries
In the time-honored tradition of introducing new technologies, many libraries are considering purchasing a 3-D printer. Jason Griffey, an early enthusiast of 3-D printing, has researched the marketplace and seen several systems first hand at the Consumer Electronics Show. In this report he introduces readers to the 3-D printing marketplace.
3-D Printers for Libraries
Crash Course in Weeding Library Collections
Weeding is a perennial challenge for librarians. This book will help you rise to the task by offering you basic instructions, including information on new formats and digital collections. It covers online collection maintenance needs on all material formats (books, serials, recordings, realia) that require ongoing weeding.
Crash Course in Weeding Library Collections

Ebsco Tutorial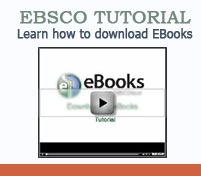 Professional E-Resources
Welcome to the State Library of Florida.
Databases
Florida Electronic Library

The Florida Electronic Library is a gateway to select Internet resources that offers access to comprehensive, accurate, and reliable information. Available resources include electronic magazines, newspapers, almanacs, encyclopedias, and books, providing information on topics such as current events, education, business, technology, and health issues. The Florida Electronic Library offers information for all age groups, including homework help for students and resources for teachers.

Florida Memory Project

The Florida Memory Project presents a selection of historical records that illustrate significant moments in Florida history, educational resources for students of all ages, and archival collections for historical research. It utilizes selected original records, photographs, and other materials from the collections of the State Library and Archives of Florida.

Library and Information Science Source

Library and Information Science Source is an upgraded version of Library Literature and Information Science.
E-Books
All Resources
1 •2 •3 •5 •A •B •C •D •E •F •G •H •I •J •K •L •M •N •O •P •R •S •T •U •W •X •Y
Do you ever feel like you're drowning in an overwhelming number of tasks? These ready-to-use lifesavers will help you stay afloat in your job while you successfully manage your facilities. You'll find advice on a variety of subjects, from completing library inventory, handling overdue materials, and establishing a book club to teaching Internet research skills and improving public relations.
Nancy J. Keane is the author of the award-winning website Booktalks—Quick and Simple (nancykeane.com/booktalks), as well as the creator of the open collaboration wiki ATN Book Lists. With 101 Great, Ready-to-Use Book Lists for Children, she provides another indispensable resource for librarians and teachers.
Nancy J. Keane is the author of the award-winning website Booktalks—Quick and Simple (nancykeane.com/booktalks), as well as the creator of the open collaboration wiki ATN Book Lists. With her latest book, 101 Great, Ready-to-Use Book Lists for Teens, she provides another indispensable resource for librarians and teachers.
The ten chapters in 21st Century Access Services: On the Front Line of Academic Librarianship highlight the expanded roles of access services and discuss the role these services will continue to play in the success of the library, as well as place these services in the context of supporting the academic mission of the institutions of which the libraries are a part. This volume also fills a major void in the professional literature. This work will be useful to access services practitioners in all types of academic libraries, and to library and information science graduate students and faculty.
Compact yet remarkably comprehensive, this book covers all of the major aspects of school library services, from administration to instruction and is focused on the elementary school librarian perspective. This title has been updated and expanded to include the latest developments in makerspaces, the Common Core, social networking and eBooks.
In the time-honored tradition of introducing new technologies, many libraries are considering purchasing a 3-D printer. Jason Griffey, an early enthusiast of 3-D printing, has researched the marketplace and seen several systems first hand at the Consumer Electronics Show. In this report he introduces readers to the 3-D printing marketplace.
This beginner's guide to 3D design and printing provides librarians with lessons, tips, and instructions for integrating these technologies into the K–12 standards-based curriculum.
Adults over the age of 50 constitute some of the most engaged and frequent users of public libraries. They may also be the most misunderstood. As Baby Boomers continue to swell their ranks, the behavior, interests, and information needs of older adults have changed dramatically, and Schull's new book offers the keys to reshaping library services for the new generations of active older adults.

Academic Archives: Managing the Next Generation of College and University Archives, Records, and Special Collections

Today, the field of academic archives is more expansive and complex than ever before. In addition to college and university archives, academic archives encompass records management programs, special collections departments, and other campus archival repositories. This new definition of academic archives programs has redefined the role, and training, of academic archivists. This book gives you the tools to fill that role, including collection strategies, a management plan for electronic records, and development strategies for starting a campus records management program, and an understanding of the emerging trends affecting all archivists.
This book will guide candidates through a strategic and targeted interview preparation process for today's highly specific librarian positions.
The American Public Library Handbook is the first reference work to focus on all aspects of the American public library experience, providing a topical perspective through comprehensive essays and biographical information on important public librarians.
This issue of Library Technology Reports analyzes five different academic libraries to better understand their investments, detailing the outcome thus far, and drawing conclusions about the next-generation catalog.
More teenagers than ever turn to librarians and teachers to ask private questions they are too afraid to share with family and friends. This book offers any librarian a quick primer on talking with young adults about the tough and often controversial topics of sex, drugs, alcohol, and violence. You'll have quick overviews on the issues themselves as well as tips for navigating these waters with teens.
Appraisal and Acquisition: Innovative Practices for Archives and Special Collections explores how archivists and special collections librarians in organizations of different sizes and types have approached the challenges of collection, as well as exploring opportunities to acquire new kinds of materials and conduct thoughtful reappraisal.
Peter Hernon and Ellen Altman integrate the use of technology into the customer experience by offering solid, practical ideas for developing a customer service plan that meets the library's customer-focused mission, vision, and goals, and challenge librarians to think about customer service in new ways.
Enriched with reflections and comments from authors, audiobook narrators, producers, reviewers, and librarians, this book shows how audiobooks not only benefit struggling readers and bring families together but also fit neatly within newly accepted standards for early literacy education; demonstrates how to use audiobooks as classroom and library tools for learning; identifies how to locate must-have audiobooks and offers advice for maintaining a collection.
Balancing the Books: Accounting for Librarians fills the gap that exists in literature on library acquisitions accounting. By covering essential accounting concepts, budgeting, government regulations that pertain to libraries, as well as accounting measurement methods and their relationship to assessment, this book effectively addresses the questions often posed by acquisition librarians pertaining to accounting.
The Basic Business Library is a modern sourcebook of core resources for the business library and the business information consumers and researchers it serves. This up-to-date guide also discusses strategies for acquiring and building the business collection in a Web 2.0/3.0 world and recommended approaches to providing reference service for business research.
In a time of rapidly changing technologies, the role of the youth services librarian has expanded to include the realm of digital media. Supporting children's literacy now means serving as a media mentor. This book empowers youth services staff to confidently assist families and caregivers as they navigate the digital world, guiding them towards digital media experiences that will translate into positive and productive lifelong learning skills, regardless of format.
Former YALSA President Linda Braun covers what advocacy is and isn't, what it takes to be an effective advocate for teens, how to practice advocacy skills and techniques, how to be a day-to-day advocate for teens, and set up a successful long-term library teen services advocacy initiative. Front-line public and school librarians working in young adult services will find the volume useful as they will be able to use the information included everyday to successfully advocate with administrators, colleagues, community members, and government officials.
This book is a colorful, high content survey of dynamic library building projects completed in the last five years, in both public and academic settings. Anchored by Library Journal's New Landmark Libraries competition, here is the nation's best examples of innovative, functional, appealing design all in glorious full-color.
Beyond the Browser: Web 2.0 and Librarianship overviews the history of libraries and the Internet to provide necessary perspective and then examines current and future trends in libraries.
In BiblioTech, educator and technology expert John Palfrey argues that anyone seeking to participate in the 21st century needs to understand how to find and use the vast stores of information available online. In order to survive our rapidly modernizing world and dwindling government funding, libraries must make the transition to a digital future as soon as possible—by digitizing print material and ensuring that born-digital material is publicly available online.
The Big Book of Special Education Resources is the most comprehensive collection of its kind. Practical and easy to use, this ready-reference is borne out of extensive research and numerous interviews with parents and professionals to ensure selection of only the highest-caliber and most sought-after resources.
Nearly half of libraries have seen substantial increases in serial spending during the past ten years. Where does your institution fall on the scale? Drawing from National Center for Education Statistics (NCES) data, Crawford presents a thorough study, crunching the numbers of a survey of 2,594 academic libraries through 83 revealing charts and graphs.
Sharing expertise gleaned from more than two decades as a library security manager, Warren Davis Graham demonstrates that libraries can maintain their best traditions of openness and public access by creating an unobtrusive yet effective security plan.
Requests for the removal, relocation and restriction of books (also known as challenges)occur with some frequency in the United States. Book Banning in 21st-Century American Libraries, based on thirteen contemporary book challenge cases in schools and public libraries across the United States, argues that understanding contemporary reading practices, especially interpretive strategies, is vital to understanding why people attempt to censor books in schools and public libraries.
With the explosion in YA publishing, it's harder than ever to separate good books from the rest. Booklist magazine's editors deep and broad knowledge of the landscape offers indispensable guidance, and here they bring together the very best of the best books for young adults published since the turn of the 21st century.
Although mobile devices in libraries have been a hot topic, they are often discussed in the context of affluent populations and academic libraries. The demographics of mobile internet users are much more diverse than this, and the potential for mobile services is correspondingly broad. Wherever possible, the focus of the issue is on services that can be implemented quickly and cheaply.
Using a library's facilities to bring arts to the community is not only a valuable service, but also a wonderful marketing and outreach opportunity, a tangible way to show the public that libraries offer value, thus shoring up grassroots support. The author has combed the country finding examples of programs implemented by a variety of different types of libraries to enrich, educate, and entertain patrons through the arts.
Beginning with a short history of e-books and a review of the e-book publishing industry and its effect on the library's selection and budget process, this how-to provides a thorough treatment of collection development issues, including the selection process and development policies, the use of approval plans, patron-driven acquisition, and practical solutions for creating your e-book collection policies.
Meet the growing demand for real-time mobile information by learning application design and development just for libraries. Learn how to develop an iPhone or Android application for your library, how to mobilize your library's catalog, and how to create a mobile website which can be viewed on smartphones.
This 2nd edition of The Care of Prints and Drawings provides practical, straightforward advice to those responsible for the preservation of works on paper, ranging from curators, facility managers, conservators, registrars, collection care specialists, private collectors, artists, or students of museum studies, visual arts, art history, or conservation. A greater emphasis is placed on preventive conservation, a trend among collecting institutions.
Michael Cart, former YALSA president and the best-selling author of Young Adult Literature: From Romance to Realism, applies his considerable expertise as one of the nation's leading experts on YA literature to identify exceptional adult books that will satisfy a variety of young adults recreational reading tastes.
Whether you're a practicing cataloger looking for a short text to update you on the application of RDA to cataloging records or a school librarian who needs a quick resource to answer cataloging questions, this guide is for you. • Addresses the new standards specifically as they apply to school libraries • Helps school librarians understand and implement the new cataloging standards in their collections • Distills the latest information and presents it in a format that is clear and accessible • Fills the need for up-to-the-minute cataloging guidance for the busy librarian who wants information in a hurry
Cataloging for School Librarians presents the theory and practice of cataloging and classification to students and practitioners needing a clear sequential process to help them overcome cataloging anxiety. With the instructions in this book, the new cataloger will become proficient at creating bibliographic records that meet current national standards and at making library materials accessible to students and faculty.
This book has been completely updated and revised to reflect the dynamic states of higher education and academic libraries. It presents a critical examination of major issues facing colleges and universities and the unique challenges that their libraries must come to grips with.
Jeanette Larson highlights best practices and "toolkits" that provide tools and resources to quickly implement programs and services. She includes model programs, checklists and forms, and ready-to-use examples of programs, with an emphasis on programs that are inexpensive to implement and simple to replicate.
This fully updated version of the CILIP-endorsed guidelines for secondary school libraries addresses the changing schools' landscape and impact of technological changes of recent years. Covering every aspect of providing a school library service, from information literacy and reader development to budgeting, management and partnerships, these guidelines will empower school libraries to improve upon and advocate for their services.
Based on his first-hand experiences migrating the IT infrastructure of Wake Forest University's Z. Smith Reynolds Library, Mitchell's book bridges the gap between organizational and technical issues in decision making for cloud computing in libraries. The guidance he provides will help librarians select the cloud computing solution that is right for their library while matching staff expertise to the customization involved.

Collaborating for Inquiry-Based Learning: School Librarians and Teachers Partner For Student Achievement, 2nd Edition

This newly updated and expanded second edition of Collaborating for Inquiry-Based Learning explains effective IBL scaffolding and the school librarian's role as the lead in the collaborative process of inquiry-based teaching.
Authentic literacy practice is crucial to preparing all students to be successful both in the workplace and college in the 21st century. Insisting that this literacy achievement will only happen when librarians, teachers, literacy coaches, and administrators work together in their schools, Collaborating for Real Literacy addresses the role of each instructional leader individually and examines the importance of the group collectively in bolstering the literacy of all students.
If you're a librarian charged with collecting curriculum materials and children's literature to support the Common Core State Standards, then this book, the only one that offers explicit advice on collection development in curriculum collections, is for you.

The Collection's at the Core: Revitalize Your Library with Innovative Resources for the Common Core and STEM

This book comprises three sections: an overview of policy initiatives; a thorough exploration of STEM education policy, digital materials, and collection considerations; and detailed explanations of strategies for collection development and promotion. You'll learn how to perform a collection analysis to determine the age and extent of your STEM collections and make priorities for enriching them with appropriate digital multimedia resources as well as how to classify resources using Dewey and Sears and with regard to the Common Core State Standards and the Next Generation Science Standards.
This book addresses Common Core State Standard curriculum resources to assist the school librarian in collaborating with classroom teachers.
More than just an easy-to-use blogging platform, WordPress is in fact a flexible, open source content management system. Without spending a dime or writing a line of code, it's possible to build the library website of your dreams.
Google has now developed services far beyond text search. Google software will translate languages and support collaborative writing. The chapters in this book look at many Google services, from music to finance, and describe how they can be used by students and other library users.
The American Library Association defines information literacy as a set of abilities requiring individuals to recognize when information is needed and have the ability to locate, evaluate, and use effectively the needed information. The Concise Guide to Information Literacy gives students the tools they need to develop those abilities, including the search techniques and evaluation methods that will help them pinpoint what actually is academically sound information.
Kenneth D. Crews provides timely insights into applications of copyright law for librarians, educators, and academics.
Libraries on the leading edge are already embracing this new worldwide sensation by integrating cosplay into their programming and events. Learn all about the world of cosplay and how you can host cosplay events, workshops, makerspaces, clubs, and more in your library!
Covering tools, terminology, and the FRBR-based RDA approach to description, this book explains the current principles of organization of information and basic cataloging practices for non-catalogers, enabling readers to understand elements of the cataloging process and interact with records in a basic manner.
This professional volume covers all aspects of collection development and management in the public library, from gathering statistics to designing a collection that meets community needs, to selecting materials, managing vendor relations, understanding the publishing industry, and handling complaints.
Family literacy programs can be remarkably effective in helping families who struggle in various areas of literacy or supporting their children's academic needs. Crash Course in Family Literacy Programs provides an introduction and an overview of this critical subject, defining what literacy, family literacy, and family literacy events are, and covering critical topics such as sources of funding, conclusions of recent research, and bilingual family literacy.
There is no other professional book that covers the full spectrum of skills needed to perform the RA service that is in such great demand in libraries of all kinds. Helping readers find what they want is a sure way to serve patrons and build your library's brand. You will come away from this easy-to-understand crash course with the solid background you need to do both.
This manual is a "one-stop shop" on how to present storytimes to suit different audiences including bilingual learners, special needs children, and those in a variety of settings such as Head Start, preschools, and day care situations. It features strategies for using sign language and adapting storytime for special needs children, and includes ideas for expanding storytimes using hands-on learning, crafts, toys, and play.
Weeding is a perennial challenge for librarians. This book will help you rise to the task by offering you basic instructions, including information on new formats and digital collections. It covers online collection maintenance needs on all material formats (books, serials, recordings, realia) that require ongoing weeding.
Colleges typically have writing centers to which students can bring their writing assignments to a peer tutor for assistance, but most high schools and middle schools do not. This book advocates for the creation of writing centers in 7–12 schools and explains why the school library is the best place for the writing center.

Creating the High-Functioning Library Space: Expert Advice From Librarians, Architects, and Designers

This book provides practical information and insights to library administrators, and building plan team members, at academic and public libraries who are considering or about to start an expansion or reconfiguration of existing library space.
Librarians are continually faced with challenges of how to best meet the needs of patrons with disabilities, whether those patrons have physical or intellectual disabilities, differing learning styles, or even temporary problems which impact their access and may change over time. And because planning considerations range from policies and organizational culture to facilities, technologies, and beyond, librarians need a guide that covers everything. That guide is here
Creating Online Tutorials: A Practical Guide for Librarians will help guide librarians through the basics of designing and producing an online tutorial. Through practical examples, the book will guide librarians just starting the process of creating an online tutorial from start to finish and will provide tips that will be useful to librarians with more experience in designing online tutorials.
In this book, the authors share their knowledge developed in building and maintaining a streaming video collection. Highlights include key information and tips, as well as recommended best practices for the licensing and acquisitions processes, providing access, promoting the collection, and evaluating the library and vendor collections.
"Creative Library Marketing and Publicity: Best Practices" shares the success of libraries of various sizes and types—small to large public, academic, and school libraries, systems, and organizations. Each best-practice scenario describes a library's successful experience with marketing, branding, and promoting a library service or program, providing information about planning, actual promotion techniques, and evaluating the success of the plan or promotion methods.
This book provides a game plan for busy librarians and teachers to develop their students' abilities to arrive at new ideas by utilizing children's books at hand. Following an introduction in which the author defines divergent thinking, discusses its characteristics, and establishes its vital importance, chapters dedicated to types of literature for children such as fantasy, poetry, and non-fiction present specific titles and relevant activities geared to fostering divergent thinking in young minds.
For a library to fulfill its mission to provide community engagement and cultural dialogue, then diverse, excellent cultural programming is the key. In Cultural Programming for Libraries, the director of ALA's Public Programs Office shares time-tested strategies and practical, inspiring samples from first-rate programs across the country.

Cutting-edge Research in Developing the Library of the Future: New Paths for Building Future Services

In this third volume of the series, Creating the 21st-Century Academic Library, explores examples of exciting new library services and workflows for the library profession to model and adapt for their own communities and patrons. Included are studies that combine data mining and business intelligence metrics to predict future trends and behaviors.
Written for every librarian or teacher looking for such new and creative teaching techniques, Cybrarian Extraordinaire: Compelling Information Literacy Instruction fills the gap. Based on the author's own experiences, the book shares specific active-learning exercises created to make library instruction more engaging for a wide variety of audiences.
This complete how-to guidebook provides you with the tools and inspiration you need to use infographics and data visualization techniques in your library to knock your audience's socks off as you tell your story in a visual format that can be consumed and understood at a glance.
Cataloging rules and standards frequently change, as do the resources being cataloged. Library professionals can benefit from guidance on how to successfully navigate confusing cataloging practices, especially when working with serials. This is the only book of its kind to focus on the complexities of the serials cataloging process.
A celebration of children, families, and reading held annually since 1996, Children's Day/Book Day, known as Dia, emphasizes the importance of literacy for children of all linguistic and cultural backgrounds. In anticipation of Dia's fifteenth anniversary, the Association for Library Service to Children (ALSC) presents a collection of the best of its Dia programming ideas.
Surveying academic and public libraries in a variety of settings and sharing a range of approaches to creating digital media labs (DMLs), this issue of Library Technology Reports points the way towards meeting that benchmark, showing funding sources and amounts for 16 DML projects in a range of libraries.
This book is a comprehensive guide to the process of digital storage and archiving. Assuming only basic computer knowledge, this guide walks the reader through everything he or she needs to know to start or maintain a digital archiving project. Any librarian interested in how digital information is stored can benefit from this guide.
AV collections in libraries are disintegrating, and their playback equipment is soon to be obsolete. Digitizing can be the solution to decay and for continued access. This book offers easy-to-understand guidance on how to use digitizing to enable your library to recoup its investment in outdated but often-expensive AV collections, discusses the use of off-the-shelf and shareware technology, covers the creation of metadata for discovery layer access, shows how digitized materials can be made available over the Internet, making them much more accessible than the physical versions, presents information to create a path for future projects and for storage of output information, and shares knowledge that is transferable to media other than those discussed in the book
People can be lured into thinking that all it takes to digitize something is a scanner and some metadata. This guide illustrates the practical aspects of digitization such as the physical challenges of scanning books without cutting the spine,the differences between a "scanner" that uses a scanning head vs. a "scanner" that uses a camera, the different options for workflow for digitized items and the reasons for choosing one scanner over another for reasons other than price.
With staff time and resources already spread thin, it can be a challenge to plan and undertake a digitization initiative. The good news is that public libraries across the country have done just that. Here, the authors share lessons and tips for success, showing the way to getting your collection online.
The author, Miriam Kahn, is a specialist in preservation and disaster response. She provides instructions and much incentive for updating or starting your library's disaster plan.
In 1950 Ruth W. Brown, librarian at the Bartlesville, Oklahoma, Public Library, was summarily dismissed from her job after thirty years of exemplary service. Louise S. Robbins tells the story of the political, social, economic, and cultural threads that became interwoven in a particular time and place, creating a strong web of opposition. Relevant today, Ruth Brown's story helps us understand the matrix of personal, community, state, and national forces that can lead to censorship, intolerance, and the suppression of individual rights.
Donors and Archives: A Guidebook for Successful Programs reviews the complex landscape of donor work, archival donations, and institutional fundraising for today's archivists. It provides practical approaches to enhance donor relations for all types of archival programs, such as academic, government, private, and corporate archives. The book covers the planning, the process, and the partners needed for successful donations and donor programs.
Drupal is a free and open-source content management system (CMS) that many libraries use to create well-designed, easy-to-use and manage websites. Go step-by-step through the decisions and tasks needed to develop and launch a Drupal-powered site and learn the advantages of the open source approach.
In this step-by-step patron-centered guide, three experts who have conducted extensive research and piloted this outcome-based program for youth in the St. Louis Public Library, share their findings and proven strategies.
Author experts Ghoting and Martin-Diaz combines cutting-edge early literacy research, which is the heart of the Every Child Ready to Read program, with practical implementation tips for busy children's librarians. Scripts and plans help librarians explain what adults can do to enhance children's print motivation, phonological awareness, vocabulary, narrative skills, print awareness, and letter knowledge.
The eBook Revolution: A Primer for Librarians on the Front Lines is exactly what its title promises: an essential resource for librarians facing the formidable task of coordinating the library-wide transition to ebooks and fielding questions from patrons.
The world of ebooks is both vast and intricate. Exploring the many articles concerning ebook publication, vendors, devices, and copyright laws can be overwhelming. The writers of Ebooks and the School Library Program have organized their learning to share with their peers from several years of building ebook collections for their individual school library programs.
In an information landscape where change is the status quo, difficult conversations come with the territory. Being a library leader means knowing how to confidently steer these conversations so that they lead to productive results instead of hurt feelings, resentment, or worse. Employees in a library will also encounter conflict, especially during times of change. Using a step-by-step process, this book walks readers through learning the skills to have effective difficult conversations that hold themselves and others accountable.
This book covers the five points of the e-resources life-cycle in a readable and accessible manner, providing valuable information that is applicable to real-world situations. Each of the working chapters covers one of the five life-cycle points (Acquisitions, Access, Administration, Support, and Evaluation), and supplies suggested readings and thought-provoking questions.
This book connects teaching practical strategies and ideas with educational theories to give you techniques to use in the classroom to capture students' attention and engage them with instruction.

The Entrepreneurial Librarian: Essays on the Infusion of Private-business Dynamism Into Professional Service

This collection of essays illustrates how librarians are infusing entrepreneurial principles in a variety of arenas, including public, private, academic, and special libraries. Applying new business models to traditional services, they eagerly embrace entrepreneurship in response to patrons' demands, funding declines, changing resource formats, and other challenges.
The author examines the development of, and changes to, library and information science through practice and the writings of library and information theorists and practitioners from Varro during the reign of Julius Caesar to the present. He documents technological and social changes that have had foundational implications for the information professions and argues that ethical standards may be redefined overtime and new standards may emerge, older precepts and newer ones coexist.
Defining the progression toward inquiry learning, this book provides an extensive overview of the past five decades and the evolution of inquiry in science, history, language arts, and information literacy studies.
Instead of focusing on specific technologies, which are always changing, this book examines the "big picture" of how information is created, recorded, mass produced, distributed, and utilized in society. This unique approach enables readers to better understand how they fit into this changing world, to envision their place in the digital age, and to assume a leadership role that ensures the success of their clients as well as themselves.
This eclectic volume shares vivid examples of how academic librarians, inspired by the writings of noted library leader and blogger Barbara Fister, are engaging with others and blazing a leadership path for the profession on topics such as information literacy, scholarly communication and e-publishing, librarian career adaptability and healthcare privacy rights. Throughout the collection, Fister serves as a model for fearless public expression, speaking out about libraries and learning and engaging in substantive debate.
This book provides a comprehensive overview of the various methods of reading instruction, analyzing the pedagogy behind Sustained Silent Reading (SSR), the importance of reading aloud to children, and the necessity of working the home-school connection.
Here is everything you need to promote your library as a center for genealogical study by leveraging your collection to help patrons conduct research on ancestors, document family stories, and archive family heirlooms. This book offers tips for strategic planning for local studies, it includes hints of how to assess, organize, discard, or donate family heirlooms and offers suggestions for caring for family history archives, including physical enclosures, digital copies.
Children's services are the heart of the library; in fact, more than one-third of U.S. library users are under the age of 12. The author has updated and expanded his comprehensive reference, covering both innovative and standard practices in children's services. Fundamentals such as collection development and management, programming, homework support, and reference and reader's advisory are all thoroughly updated.
Being a great teacher is part and parcel of being a great librarian. In this book, veteran instruction services librarian McAdoo lays out the fundamentals of the discipline in easily accessible language, succinctly covering the topic from top to bottom
Over the centuries, as new means of finding, producing, and distributing news were developed, the methods used to ensure future generations' access changed, and new challenges for news content preservation arose. This book covers the history of news preservation (or lack thereof), the decisions that helped ensure (or doom) its preservation, and the unique preservation issues that each new form of media brought.
An essential resource for information professionals, Gale Directory Databases (GDD) is the most comprehensive source of information on databases, database products, online services and database vendors and distributors. Coverage includes thousands of databases and related products in all subject areas worldwide.
In an online world offering billions of available records and thousands of same-name people, what does the librarian and genealogist need to know to produce meaningful, reliable family histories? In an engaging style, Pennavaria covers all the genealogical essentials a librarian needs to know to serve the needs of a diverse population base.

Generation X Librarian: Essays on Leadership, Technology, Pop Culture, Social Responsibility and Professional Identity

Generation X includes those individuals born roughly between the years 1961 and 1981. This generation has faced unique advances in technology, environmental degradation, and widening economic injustice, all of which affect libraries and librarians. This collection of critical essays showcases the unique qualities and challenges that face Generation X librarians.
This is a complete, year-long programming guide that shows librarians how to integrate nonfiction and poetry into storytime for preschool children in order to build literacy skills and overall knowledge.
Gain the administrative support you need for your media center and library programs with this practical and enlightening guide. The author shows you how differences in background, learning styles, thought processes, leadership styles, and outlooks between school media specialists and building administrators can undermine the success of the library program. He then gives you step-by-step instructions for bridging the communication gap and leading your media center to success.
Based on their successful program at a large research institution, the authors provide a practical manual, complete with examples, forms, and templates that cover all aspects of establishing and maintaining a loanable technology program.
Patrons increasingly expect access to their libraries anywhere, anytime. This special report provides practical guidance in how librarians can put the library in the palms of their patrons' hands by using the HTML skills that many librarians already have.
Because libraries are information and research centers, they can support a huge variety of grant funding initiatives outside their own purview. Cultural centers, businesses, and educational institutions are untapped resources for library funds. What's more, many libraries may find that collaborating on a grant application with another organization is preferable to going forward with a time-consuming application of their own. But finding the right collaborative partner and securing a place at its development table can be challenging.
Goldsmith begins with a somewhat theoretical discussion of graphic novels: a brief but informative history of the format; and a number of well-reasoned arguments for bringing the genre into library collections. The latter half of the book provides many concrete suggestions for creating, maintaining, promoting, and defending a graphic-novel collection. Various appendixes list additional resources on the analysis and study of the genre, list some major titles, and provide suggestions for writing collection-development policies.
An excellent starting point for both reference librarians and library users seeking information about family history and the lives of others, this resource is drawn from the authoritative database of Guide to Reference, voted Best Professional Resource Database by Library Journal readers in 2012.
Using a research-based approach, this book examines the critical connections between writing and reading, and explains how to encourage early literacy in the classroom and library.
Supplying classroom-tested lessons and unit plans that can serve as templates, this book demonstrates exactly how to integrate and implement Guided Inquiry Design (GID) theory into practice; answers the needs of teachers and librarians who are seeking actual lesson plans using the GID concepts specifically at the 6th–8th grade levels.
This dynamic approach to an exciting form of teaching and learning will inspire students to gain insights and complex thinking skills from the school library, their community, and the wider world.
The Handheld Library: Mobile Technology and the Librarian provides the information and guidance librarians need to adapt themselves and their facilities to the mobile revolution—the fastest, most diffuse worldwide technological innovation in human history.
This book offers bold new ways to think about library spaces and suggests how libraries can provide the spaces needed to encourage students to explore learning. It also presents librarians with dynamic ideas and plans that can be used as a springboard for planning with school administrators, architects, and builders.
In recent years, cultural institutions and commercial providers have created extensive digitized newspaper collections. This book asks the timely question: what can the large-scale digitization of newspapers tell us about the wider cultural phenomenon of mass digitization? The unique form and materiality of newspapers, and their grounding in a particular time and place, provide challenges for researchers and digital resource creators alike.
A broad, comparative history of librarianship, this intriguing work goes beyond the standard focus on institutions and collections to help you explore the part modern librarianship played, and continues to play, in forming Western cultures.
This lively volume helps readers navigate the physical and digital bookshelves of libraries, explaining the various types of libraries and breaking down how to use library catalogues and classification systems. Readers are then guided through a short research project, encouraging them to connect information from multiple sources in line with Common Core requirements.

How to Launch an Author Awards Program at Your Library: Curating Self-published Books, Reaching Out to the Community

Establishing an awards program for self-published authors offers libraries new ways to bolster their relevance and expand upon their roles as curators and'keepers of story. This guide shows you how by offering practical, step-by-step guidelines for librarians wishing to launch a librarian-curated, self-publishing author award program.
The contributors of this book have provided a cornucopia of ideas on how libraries can engage youth in the crucial subjects of science, technology, engineering and math. The twenty-five chapters cover exciting ideas for this engagement ranging for those applicable for pre-schoolers to those for college students.
This book aims to help librarians thrive in the demanding environment that exists for the solo librarian. Topics covered include time management, community involvement, public relations and marketing, professional development, internet-based ideas, administrative tasks, assessing and moving collections, and general overviews.
Most people think of libraries as solemn places filled with dusty books and dustier people. This memoir and more of a career librarian explodes that misconception. Recounting his years behind the reference desk with an emphasis on the strange behavior of patrons, the author shows that public libraries are anything but staid and quiet. The history of libraries - as long as the history of the written word itself - is also discussed. That libraries have grown as colorful as the society they serve is proof that these essential institutions are as vital as ever.
Applying 20 years experience as a reference librarian working through the development of virtual reference and the integration of new tools and technologies into the industry, Thomsett-Scott lays out how libraries are using vendor services such as LibraryH3lp, LibAnswers, and Text a Librarian, as well as free tools like Twitter and Google Voice for their reference needs. Practitioners offer details on virtual reference services such as Twitter Search, instant messaging services such as Google Voice and Chat, and collaborative services such as My Info Quest.
Recent OCLC surveys show that less than 2 percent of library users begin their search on a library website, which is why search engine optimization (SEO) is so crucial. A strong SEO strategy can dramatically increase visitation and maximize the digital library investment. But since library and archive SEO efforts are often an afterthought, they can be unproductive. SEO managed by a few technically knowledgeable people deep in the organization are usually ineffective and difficult to sustain, precisely because they are not driven by a strategic plan. Arlitsch and OBrien advocate that SEO only works when approached holistically and driven strategically.

Including Families of Children with Special Needs: A How-To-Do-It Manual for Librarians, Revised Edition

This new revised edition is a step-by-step guide to serving children and youth with disabilities as well as the family members, caregivers and other people involved in their lives. The authors show how staff can enable full use of the library's resources by integrating the methods of educators, medical and psychological therapists, social workers, librarians, parents and other caregivers.

Information Literacy and Information Skills Instruction: Applying Research to Practice in the 21st Century School Library

This latest revision of Information Literacy and Information Skills Instruction: Applying Research to Practice in the 21st Century School Library brings together the research literature on information skills instruction with particular reference to models related to information seeking and the information search process.
"Information Privacy Fundamentals for Librarians and Information Professionals" is tailored to the needs of librarians and information professionals. It introduces library and information professionals to information privacy, provides an overview of information privacy in the library and information science context, U.S. privacy laws by sector, information privacy policy, and key considerations when planning and creating a privacy program.
Filling a gap in the existing library and information science literature, this book consolidates recent research and best practices to address the need for diversity and social justice in the training and education of LIS professionals.
The book begins with a historical overview of libraries and their transformation as information and technology hubs within their communities. It also covers the various specializations within the field emphasizing the exciting yet complex roles and opportunities for information professionals. With that foundation in place, it presents how libraries serve different kinds of communities, highlighting the unique needs of users across all ages and how libraries fulfill those needs through a variety of services, and addresses key issues facing information organizations as they meet user needs in the Digital Age.
Informed Transitions: Libraries Supporting the High School to College Transition identifies the ways in which libraries and librarians can work together and create valuable resources that help students transition successfully to college despite the challenges of increasing demand and diminishing resources.
Among the issues addressed are; how to prepare yourself and your staff for potential challenges by developing a thoughtful selection policy and response plan, resources for help when a challenge occurs, the art of crafting a defense for a challenged book, and pointers for effectively disseminating your response through the press and social media, and the latest on intellectual freedom in the digital realm, including an examination of library technology.
Tablet computers are fast becoming a ubiquitous technology. These devices also represent a unique opportunity for librarians and teachers because they are relatively affordable, easy to configure and maintain, and highly adaptable. Written by a practicing digital literacy instruction librarian who is also a trained children's librarian, this book offers 50 practical programming scenarios that librarians can use to integrate iPads or other tablet devices into their programming, offering different plans for toddlers and pre-K child, school-aged patrons, teenagers, adults, and even seniors.
The joint-use college/public library can be an ideal solution to serving patrons while managing overextended resources, and this illuminating book scrutinizes successes and failures of the joint-use model. Three founding faculty librarians of a joint-use college/public library discuss the factors that should go into evaluating when and where a joint library is suitable.
The first book of its kind, Joint-Use Libraries presents nine examples of situations in which libraries of different types share a building. In some cases one library takes the lead and staffs the operation. In other cases, two or more staffs inhabit the same building and divide the work. This essential book illustrates the variety of ways that public libraries, community college libraries, and college/university libraries have found to stretch their resources and better serve their users.
The skills of digital librarianship are more crucial than ever, and these same skills are in high demand outside the field, from tech startups undertaking digitization projects to digital humanities centers bringing together professors, computer scientists, and information technologists. Map out your career in this fast-growing field with the full range of perspectives gathered in this clear, concise overview of the core concepts and competencies of digital librarianship.
Libraries are creating dynamic knowledge bases to capture both tacit and explicit knowledge and subject expertise for use within and beyond their organizations. "Knowledge Management for Libraries" guides the reader through the process of planning, developing, and launching their own library knowledge base.
Written by three experienced LIS professionals, Latinos in Libraries, Museums, and Archives demonstrates the meaning of cultural competence in the everyday work in libraries, archives, museums, and special collections with Latino populations. The authors focus on their areas of expertise including academic, school, public libraries, health sciences, archives, and special collections to show the importance of understanding how cultural competence effects the day-to-day communication, relationship building, and information provision with Latinos.
Based upon the authors' own experiences in adopting the Common Core State Standards (CCSS) in their school, the included exemplar lesson plans and ideas are designed to support school librarians as they begin to collaborate with teachers in using the CCSS in their daily classroom instruction.
Quality leadership is integral to the very future of our profession. And it doesn't only come from the top down. Effective leadership is customer-focused and collaborative, fostering a service culture that invites the involvement of individuals in every part and at every level of the organization, as the authors persuasively demonstrate in this practical new book.

Learning From Libraries That Use WordPress: Content-management System Best Practices and Case Studies

In this book Jones and Farrington, two web designer/librarians, explore the variety of ways libraries are implementing WordPress as a CMS, from simple
In recent years the number of Americans who have decided to handle their own legal affairs without the help of a lawyer has skyrocketed. Ranging from people writing their own wills or drafting a contract to those trying to represent themselves in court, they're going to public and academic libraries for answers. As both an attorney and a librarian, Healy's background makes him uniquely qualified to advise library staff on providing users with the legal information they seek.
Weeding can be a daunting challenge, especially without guidance or help. To make weeding part of a library's ongoing procedures, it's best to do it in manageable doses. This new comprehensive weeding guide is like a friendly mentor ready to assist librarians on one of their more onerous tasks.
Music programs have been scaled back or eliminated altogether from the curricula of many schools. Luckily, storytimes are ideal opportunities to promote music and songs. In this collection of easy-to-use, easy-to-adapt library programs for children in grades K-3, Brown connects songs and musical activities directly to books kids love to read.
The author, Sarah Anne Murphy, innovatively rethinks the philosophy behind current library reference services in this thought-provoking book. She re-brands reference librarianship on the model of a consulting business, providing a renewed vision of the reference desk by treating patrons as clients, spells out the importance of the patron's voice, and identifies the reference librarian's competitive advantage over Web search engines.
Being unemployed is potentially devastating; without a clear, well-thought out game plan and considerable attention to their own personal well-being, those affected may find it difficult to recover. In this ALA Editions Special Report, the author, a veteran librarian with decades of experience, helps at-risk librarians prepare for budget crunches, educate themselves about which library positions are being phased out and which will hold steady or expand, adjust their career goals, repurpose their existing skills for non-traditional librarianship, and even search for work in non-library settings.
Presents plans for 32 passive programs designed to capture the attention of library patrons. Each chapter, which contains programs grouped thematically, details the steps necessary to reproduce the programs, and includes supporting handouts, activities, and photographs.
Here readers will find clear guidance on deciphering the legalese in agreements, advice on negotiating or countering provisions with library-friendly alternatives, and detailed explanations of specific licenses as well as a discussion of issues regarding online and information contracting.
The vast array of social media options present a challenge to today's busy librarians: it's tough to keep current, let alone formulate a plan for using these tools effectively. Solomon, a librarian with extensive experience in web development, design, and technology, cuts to the chase with this invaluable guide to using social media in any kind of library.
Ever since the Affordable Care Act was signed into law, public library staff throughout the country have been working hard to provide access to information about the law. This important guide, the first written specifically for library staff, offers best practices, advice, and examples of library responses from the first open enrollment period (October 2013-March 2014. It offers clear and explicit guidance related to the ethical and legal aspects of Affordable Care Act policy support through local library services.
This book is intended to help librarians better understand and articulate their roles in promoting human rights and social justice, as well as to educate policymakers, government officials, professionals in other fields, and researchers in other disciplines about the contributions of libraries to human rights and social justice. It explores the intersections of information, human rights, and social justice from a range of perspectives and addresses the differing roles of library institutions (public, school, academic, and special libraries), library professionals, professional organizations, governments, and library patrons.
This important book is a call to action for the library community to address the literacy and life outcome gaps impacting African American youth. It provides strategies that enable school and public librarians to transform their services, programs, and collections to be more responsive to the literacy strengths, experiences, and needs of African American youth.
This book will enable libraries to make informed decisions, develop new services and improve user experience by collecting, analysing and utilising data. With the wealth of data available to library and information services, analytics are the key to understanding your users and your field of operations better and improving the services that you offer. This book sets out the opportunities that analytics present to libraries and provides inspiration for how they can use the data within their systems to help inform decisions and drive services.
Peppered with engaging first-person narratives from librarians recounting emergency situations the authors cover such topics as: * An eight-step approach to developing a risk assessment plan. * Information on how to use mobile devices and social media effectively in times of disaster. * Sample disaster plans, along with model exercises, manuals and customizable communications.
This book provides a complete answer to the complex question that many librarians and librarians in training have: "How do I go about putting collaboration and a flexible library schedule into place in my library?" Specific methods and solutions for handling problems that may come up—such as ways to win over a reluctant staff, or what to do in situations where a library assistant is not available—are provided to lend the author's real-world experience to the challenges that the librarian might encounter in undertaking collaboration.
With over 35 years of experience managing five different library consortia between them, Horton and Pronevitz are uniquely qualified to show how consortia have been transforming themselves, offering new services and products while growing ever more important to the library community. Covering the history, current landscape, management approaches, critical trends, and key services that define today's library consortia.
Progress for the sake of progress is all too often a drain on precious time and resources. The communities and users that libraries serve are always changing; true innovation helps libraries adapt to meet their needs and aspirations both now and in the future. This stimulating collection offers numerous snapshots of innovation in action at a range of libraries, showcasing ideas and initiatives that will inspire librarians at their own institutions.
Covering every essential topic ranging from circulation and literacy instruction to reference and security, this benchmark text provides an up-to-date, broadly based view of library public service and its functions. • Covers all essential services of the library through completely reorganized and updated content that reflects the role of changing technologies in today's libraries • Presents many new chapters that address the topics of print collections, media collections, e-resources, computer access, social media, legal issues, ethical issues, funding and other fiscal issues.
A dive-right-in, quick-start guide for busy library professionals who want to build literacy, STEAM and other 21st-century skills using simple robots in a fun, collaborative environment. It provides the only guidebook currently available about robotics written by a librarian, for librarians, and is a simple practical guide that virtually any librarian can use, no prior tech experience necessary.
Autism is now the second most commonly diagnosed serious developmental disability, and the number of children identified as autistic continues to grow. Introducing what autism spectrum disorders are, and identifying the great need to build and manage programs for different youth with these disorders, the author offers librarians in or outside a school environment all the information they need to build a library literacy program geared towards these children.
This book from AASL focuses on planning contemporary school library spaces with user-based design strategies. The book walks school librarians and administrators through the process of gathering information from students and other stakeholders involved in planning a resource rich learning space.
In this handbook, metadata experts van Hooland and Verborgh introduce the core concepts of metadata standards and Linked Data, and show how they can be applied to existing metadata. Readers will be given the tools and understanding to achieve maximum results with limited resources.
Drawing on decades of audiobook experience and research, librarians Sharon Grover and Lizette Hannegan convincingly make the case that audiobooks not only present excellent opportunities to engage the attention of young people but also advance literacy.

Making the Most of Digital Collections Through Training and Outreach: The Innovative Librarian's Guide

Introduces librarians to a sustainable approach to teaching or coaching patrons on how to access and use eBooks, streaming video, digital music and digital journal collections.
An accidental business reference librarian by trade, Ross explains how to provide quality reference help on issues from marketing to finance--for business people, students, and even business faculty.
Fully a third of all library supervisors are managing in the middle: reporting to top-level managers while managing teams of peers or paraprofessional staff in some capacity. This practical handbook is here to assist middle managers navigate their way through the challenges of multitasking and continual gear-shifting.
Libraries are increasingly using web-scale discovery systems to help clients find a wide assortment of library materials, including books, journal articles, special collections, archival collections, videos, music and open access collections. This book shows you how to harness the power of linked data and web-scale discovery systems to manage and link widely across the varied content in your library's collections.
Anyone who supervises volunteers will find this book an indispensable guide for navigating the intricacies of managing unpaid workers. Underlying the content is the message that volunteers are a vital part of an organization's workforce and should be treated as valuable members of the team. Volunteers can work alongside paid staff members to help the organization run smoothly and efficiently—and cost effectively. The book is packed with easily implemented advice and proven techniques for successfully handling common situations.
Read along as the cast of characters makes crafts at their local library and learns why it is such a special place in their community. The accessible text and engaging illustrations are perfect for beginning readers and for reading out loud to younger children.
Volume 7 of the series Creating the 21st-Century Academic Library is focused on new approaches and initiatives in marketing the academic library, as well as the importance of outreach through partnerships and collaborations both internal and external to the library.
This book is a much-needed guide to marketing for libraries, archives, and museum professionals in the social media age. Each chapter includes explanatory topical content designed to build a framework of marketing and social media management understanding.
Fun and easy to read, this marketing and promotion guide offers you the
Intended for the novice and the old hand, individuals and large staffs, this valuable guide provides librarians with the effective marketing tools necessary to help their libraries thrive in these challenging times.
Designed for librarians who offer library instruction within the constraints of the hour-long one-shot, this book proposes a method for redesigning one-shot instruction that is both realistic and integrated into the larger curriculum. Working with faculty teams from academic departments, the authors used the collaborative Lesson Study method to redesign undergraduate research instruction.
This book is designed to serve as a practical guide for librarians seeking to learn more about the ACA; locate authoritative, nonbiased information regarding the ACA; and serve patrons searching for ACA information for personal or research purposes.
Meeting Community Needs: A Practical Guide for Librarians shows librarians how to identify real needs, how to meet them with effective services and programs, and how to evaluate their success. When librarians can demonstrate the impact that effective library programs and services have on people's lives, their confidence and ability to argue that libraries are more than "unessential" or "ancillary" services will be strengthened.

Metadata Standards and Web Services in Libraries, Archives, and Museums: An Active Learning Resource

Metadata in library information environments is evolving rapidly. This book provides readers with a set of tools for designing, developing, and implementing metadata-rich information systems while also examining the challenges and opportunities in this field.
As more users expect to use their mobile devices, librarians will want and need to develop the necessary skills to reach this growing user base. Mobile Devices: A Practical Guide for Librarians will aid libraries and librarians as they go through the process of planning, developing, implementing, marketing, and evaluating mobile services.
Nicole Engard follows up her groundbreaking 2009 book with a fresh collection of mashup projects that virtually any library can emulate, customize, and build upon. In More Library Mashups, Engard and 24 creative library professionals describe how they are mashing up free and inexpensive digital tools and techniques to improve library services and meet everyday (and unexpected) challenges.
This unique guide offers you a thorough understanding of multilingual information access (MLIA) and services and related concepts, such as database design, information retrieval, machine translation, and natural language processing.

Multimedia Learning Stations: Facilitating Instruction, Strengthening the Research Process, Building Collaborative Partnerships

Learn how to use rotating multimedia learning stations, employing databases, websites, education apps, videos, audio podcasts, online games, books, and more to build a strong collaborative library program that helps you strengthen student understanding of the research process. The book details what multimedia learning stations are and the reasons they should be used in the middle and secondary school library.
The sheer amount of resources on the subject of information literacy is staggering. Yet a comprehensive but concise roadmap specifically for librarians who are new to instruction, or who are charged with training someone who is, has remained elusive. Until now. This book cuts through the jargon and rhetoric to ease the transition into library instruction, offering support to all those involved, including library supervisors, colleagues, and trainees.
As if transitioning from library school or a different type of library job into the role of a school librarian wasn't challenging enough, just factor in today's strained funding environment for the position itself. Librarians new on the job need expert advice on what to expect and how to thrive, and since its publication in 2006 this guide has served as a wise mentor for the new school librarian.
By analyzing what several private-sector organizations and their leaders are doing outstandingly well, the author quickly hones in on transformational concepts that are ready for application in public libraries, offering more than a hundred innovative ideas that can be put into practice to improve customer service and day-to-day library operations.
With their explosive sales and widespread availability, the past few years have definitively proven that e-books are here to stay. In this sequel to her best-selling book of the same title, expert Sue Polanka dives even deeper into the world of digital distribution.
E-books have been around for more than 10 years but are still a relatively new phenomenon to many librarians and publishers. In this volume, author Sue Polanka brings together a variety of professionals to share their experience about e-books with librarians and publishers, providing forward thinking ideas while remaining grounded in practical information that can be implemented in all kinds of libraries.
Designed for experienced librarians, librarians new to the profession, and library school students, Online Teaching and Learning: A Practical Guide for Librarians provides a comprehensive framework that encompasses all aspects of planning, designing, creating, implementing, and assessing online learning for all types of libraries.
This ground-breaking book is the first to provide librarians, archivists and museum staff with practical guidance to creating and organizing successful exhibitions. Drawing on international museum practice but applicable to any exhibition or display, the book sets out a time-line from the initial idea to the final legacy.
Covering both classification and cataloging principles as well as procedures relevant to school libraries, this book provides a teaching kit for a course on this critical subject that includes content and practice exercises.
What does it truly take to provide excellent library service to children? The Association for Library Service to Children (ALSC) has outlined seven core competencies skills and best practices that are the building blocks for professional development for children's librarians.
Emphasizing public, school, and academic libraries, Pathways to Progress: Issues and Advances in Latino Librarianship, taps the leading minds of the Latino library world to provide expert discourse on a wide spectrum of library services to Latino patrons in the United States. This collection of articles provides an accurate, insightful discussion of the issues and advances in Latino library service.
The incredible shift in the provision of library services resulting from innovations such as online resources, mobile technologies, tablet computers, and MOOCs and hybrid courses makes it more challenging than ever for academic librarians to connect students with the information they need. Enter the Personal Librarian, a flexible concept that focuses on customizing information literacy by establishing a one-on-one relationship between librarian and student from enrollment through graduation.
This volume is devoted to the ideals, activities, and programs in libraries that protect human rights and promote social justice.
Providing descriptive annotations of the best children's picture books published in the last decade, this comprehensive overview is perfect for librarians, teachers, parents, daycare providers, and anyone who works with young children. It is both an excellent tool for collection development and an abundant resource for planning storytimes and other children's programming.
Enrich your library collection with outstanding informational books that children really want to read. This annotated resource by veteran children's book reviewer Isaacs surveys the best nonfiction/informational titles for ages 3 through 10, helping librarians make informed collection development and purchasing decisions.
Drawing from their personal experiences, library leaders bring their barrier-breaking perspectives to the task of reinventing the library in all its forms. From redesigning library services for the evolving needs of users, to functioning as a meaningful space in a digital age, implementing new infrastructure, and imagining the international future of school libraries, the contributors ask and answer questions. This thought-provoking collection will challenge librarians at every kind of institution to start planning today for the library of tomorrow.
Based on their direct experience and many presentations to teachers and librarians, the authors have provided template lesson plans with curriculum and standards links for using the best pop-up books currently available in the instructional program of the school.
Appropriate for both pre-service and practicing school librarians at all grade levels, this book provides suggested techniques and examples of best practices for managing students in a school library.

The Power of Data: An Introduction to Using Local, State, and National Data to Support School Library Programs

The Power of Data discusses the use of data sets to establish goals for school library programs. Highlighting data available at the local, state, and national levels, the book takes a look at how school librarians can use available data to influence decisions at the local level. The Power of Data will increase the ability of school librarians to effectively use existing data and to articulate the analysis of that data to the people who need the information, including principals, superintendents, school boards, parents, teachers, and students.
Practical Evaluation Techniques for Librarians provides information and guidance that is highly useful and accessible for all librarians looking to intelligently manage the strengths and weaknesses of their library as well as communicate its value to its stakeholders.
Looking for tips on how to work towards your overall vision while remaining productive on the frontlines? This book gives you fresh ideas for balancing your managerial duties with day-to-day responsibilities in the academic library by; presenting the first approach to managing, leading, and practicing simultaneously, incorporating chapters written by 10 different experts from organizations across the country, and addressing the need for professionals with expanding management roles to engage higher administration.
This book offers innovative tips and tried-and-tested best practices to enable library and knowledge workers to take control of professional development regardless of the budget and time available to them. Continuing professional development (CPD) is a key component of a successful and satisfying career.
Retirement holds many questions for librarians. Smallwood's volume offers insight, inspiration, and tips for those already retired as well as those thinking about retiring. A raft of veteran librarians, financial advisors, and other experts help librarians navigate a smooth passage into retirement.

Preparing Children for Reading Success: Hands-on Activities for Librarians, Educators, and Caregivers

This will not only familiarize anyone who reads to young children with the essentials of promoting early and emerging literacy, but also contains more than 25 ready-to-go activities that can be immediately used to foster this critical skill development. Following a basic overview of preliteracy skills that prepare children for reading success, the book contains field-tested, proven activities that promote success in each of the following skill sets; alphabet knowledge, print concepts, book handling skills, phonological sensitivity and expressive vocabulary.
When materials aren't available due to deterioration, missing pages, disconnected covers, or other problems, it can be frustrating for users and librarians alike. The answer is to provide appropriate care for the collection from the outset, while also guiding staff on making needed repairs. In Preservation and Conservation, two experts show library administrators and decision makers optimal collection preservation techniques, what it takes to set up a conservation work area, and safe ways to mount a small exhibit. In between, those responsible for repairs will find easily learned, illustrated, step-by-step instructions to repair and conserve books and documents.
Contains informative chapters on physical preservation, collection management, cooperation with organizations and communities, various formats and special projects. Each part covers the preservation of specific materials, from newspapers and scrapbooks to photographs and oral histories. In addition, chapters cover repair and restoration of materials, while taking into consideration the current state of funding for agencies with an interest in history.
This book investigates state, national and international policies on prison libraries, reviews literature on the topic and describes partnerships between prisons and public libraries. Results from a national survey and follow-up interviews are included, providing a full narrative of policy outcomes in U.S. prisons.
A collection of expert essays examines the privacy rights that have been lost in the post-9/11 era, giving students and others the knowledge they need to take back their constitutional protections. The book highlights the use of new technologies to limit privacy rights.
This report from ALA Editions provides a history of the trend of local and state governments privatizing public services and assets. It also examines the history of public library privatization and the affects it has on services, patron satisfaction and staff, as well as legal issues.
This ready-to-use tool helps with selection, motivation, and skill building relative to titles published within the last five years. • Helps librarians promote new fiction and nonfiction to teens and to build literacy • Supports the new national and state standards through learning extensions • Offers read-alikes for titles popular with teens • Features skill-building exercises • Includes selection criteria that speak to appropriateness and appeal
Protect patron privacy and safeguard Internet usage using this how-to manual for creating a secure environment in your library. You'll learn how simple changes to your policies, procedures, and computer settings can ensure a private and safe research space for users.
Public libraries are keystone public institutions for any thriving community, and as such can be leaders in making cities better places to work, play, and live. In this important book, noted urban planner and librarian Dudley shows how public libraries can contribute to place making, or the creation and nurturing of vital and unique communities for their residents.

Public Library Buildings: The Librarian's Go-to Guide for Construction, Expansion, and Renovation Projects

This go-to guide covers the entire process of building or renovating a public library from initial planning, to maintaining the completed space, to measuring success.
In the years since John Huber's trailblazing "Lean Library Management" was published, budget pressures on libraries have only increased. Yet libraries who have adopted his strategies have turned conventional management thinking—that if budgets are reduced, customer service suffers—on its head. These libraries have proven that by streamlining and improving customer services, they can eliminate wasteful activities and bring down costs.
This book explains how librarians can capitalize on the growing interest and need of patrons for help with technology by expanding their library's tech services to build community engagement and support.
This book helps you tackle the challenges of implementing the new cataloging code (RDA/Resource Description and Access) in the MARC environment, providing emphasis on practical, straightforward RDA advice for today's busy cataloger.
Zvirin, a former Books for Youth editor for Booklist, has assembled this expert and invaluable collection. Nine sections, including 'First Reads,' 'Families,' 'Friendships,' and 'The Natural World,' contain richly annotated lists of recommended titles published during the last 10 years.
Genre fiction has always been a complex mixture of themes and elements. In this informative and entertaining book the author gets library staff up to speed on these engaging titles, showing how such crossover fiction appeals to fanbases of multiple genres. Comes complete with booklists, summaries, read-alikes, and thorough indexes.
This definitive resource for librarians and other book professionals provides: •An overview of historical fiction's roots, highlighting foundational classics, as well as covering the latest and most popular authors and titles •Explores the genre in terms of its scope, style, and appeal •Includes lists of recommendations, with a compendium of print and web-based resources •Offers marketing tips for getting the word out to readers
Something sinister is afoot out there and this newly updated readers advisory has all the clues to help librarians solve the mystery of which titles readers should check out next.
This new edition is a complete revision and can be useful both as a textbook for library-school students and a training manual for library staff. The definition of readers' advisory service has been expanded to include nonfiction as well as fiction. Online tools for identifying and evaluating titles to suggest to today's new adult leisure readers are described, in addition to the tried-and-true print sources. The value of personal reading suggestions from staff and patrons is addressed. Topics for discussion and techniques for marketing good reading material are offered.
Motivating children to read is essential to building a lifelong love of reading. Many parents cannot model engagement with books and instead, teachers, school media specialists, and children's librarians must step into the breach to help children embrace a love of reading. According to award-winning librarian-educator and author Sharon Grimes, to help students love books and reading, their skills must go beyond merely recognizing words and turning pages without comprehension. She frames the situation with an insightful overview of current research on reading and how children learn.
This book explores how an understanding of organisational information culture provides the insight necessary for the development and promotion of sound recordkeeping practices. It details an innovative framework for analysing and assessing information culture, and indicates how to use this knowledge to change behaviour and develop recordkeeping practices that are aligned with the specific characteristics of any workplace.
Designed to complement every introductory library reference course, this is the perfect text for students and librarians looking to expand their personal reference knowledge, teaching fail safe methods for identifying important materials by matching specific types of questions to the best available sources, regardless of format.
In today's technology-driven world, reference librarians must serve users who come into the building as well as remote users who ask via various digital means. Reference Interview Today will help reference librarians decide which tools and strategies will best serve their diverse group of patrons, in person and in cyberspace.
Academic and public libraries are much different today than they were even 15 years ago. And with even bigger changes on the horizon, what lies in store? In this systematic attempt to speak to academic and public librarians about the future of library services, Hernon and Matthews invite a raft of contributors to step back and envision the type of future library that will generate excitement and enthusiasm among users and stakeholders.
Today's libraries are even more complex and intimidating to new users than libraries of the past, and the technical and social contexts in which users experience their library's resources add to this complexity. This book examines how library services meet user needs in the twenty-first century. Through contributions from the leading scholars and practitioners in the field, this volume addresses such issues and how they affect practices in public and academic libraries.
This comprehensive look at web-based academic libraries synthesizes the changes wrought by the Web revolution into a visionary new model, grounded in history as well as personal experience. The author demonstrates how existing functions like cataloging, circulation, collection development, reference, and serials management can be transformed by entrepreneurship, human face/electronic communicator relations, web apps, and other innovations.
To compete today, librarians need to not only provide old services in new ways but also to provide new services. Repositioning Reference: New Methods and New Services for a New Age re-imagines reference services in libraries and information organizations and the role of reference librarians, taking into account rapid developments in technology and information-specific services in non-library sectors.
Research-Based Planning for Public Libraries: Increasing Relevance in the Digital Age takes readers through a logical and effective process for developing a plan and implementing it within the various functions of the library. Grounded in research and best practices, the book offers practical, easy-to-implement advice and direction for today's public library administrators, managers, and board members.

Resource Sharing Today: A Practical Guide to Interlibrary Loan, Consortial Circulation, and Global Cooperation

Resource Sharing Today is a practical guide to resource sharing, starting with the library across town and ending with libraries on the other side of the globe. Chapters cover everything from the ALA's interlibrary loan form to successful innovations such as Virginia Tech's ILLiad to New York's IDS (Information Delivery Service). Appendices include regional, state, national, and international ILL codes, ALA and IFLA forms, open access agreements, and purchase on demand plans.
A state-of-the-art guide to the world of library and information science that gives readers valuable insights into the field and practical tools to succeed in it.
Will library technical services exist thirty years from now? If so, what do leading experts see as the direction of the field? In this visionary look at the future of technical services, Mary Beth Weber, Head of Central Technical Services at Rutgers and editor of Library Resources and Technical Services (LRTS), has compiled a veritable who's who of the field to answer just these questions.
This edited volume, containing five sections and fourteen chapters, reviews the current state of reference services in academic libraries with an emphasis on innovative developments and future trends. The main theme that runs through the book is the urgent need for inventive, imaginative, and responsive reference and research services.
In this issue of Library Technology Reports, Lori Bowen Ayre, an experienced implementer of automated materials handling systems, provides background on the evolution of the standard; addresses the costs and benefits of RFID, which can be an expensive technology; discusses issues for libraries and their vendors in migrating to the new standards, identifying additional steps needed to remove legacy barriers; offers recommendations for libraries that have implemented RFID as well as for those getting started; shows how to use tags to optimize workflows and design new services.
Is your institution's library bursting at the seams with books that have not been touched for decades, microfilm that nobody uses, and print journals that have been superseded by electronic access? Have you wondered how best to identify what physical material to retain and what to withdraw to maintain an inviting collection of relevant material for your users? Then it's time to rightsize!
Maintaining a library website is as important as its initial development. In this issue of Library Technology Reports King draws from his team's four-year experience running the acclaimed digital branch of the Topeka & Shawnee County Public Library (TSCPL). From website tweaks to staffing issues, King outlines recommended strategies and workflow plans for continually meeting library users' needs and effectively highlighting library programs and services.
Sacred Stacks voices the importance of the library profession and libraries as community institutions in a secular time.
Administrators, policy makers, legislators, and the public demand concrete, measurable evidence of the need for libraries and their use. The collection and dissemination of data about library service in a straightforward, convincing manner are integral components of library advocacy in the current economic climate. Addressing frontline librarians lobbying for increased programming or staff, as well as adminstrators marshalling statistics to stem the tide of budget cuts and prevent library closure, this vital new book explores the whys and hows of using data to build a better picture of library needs and success.
This collection of the wide-ranging questions from readers, and the author's informative answers, are gathered in broad thematic groups to help readers explore the all-too daily reality of confronting efforts to censor, ban, or otherwise limit open and ready access to materials in our schools and libraries. They were all written in response to active book challenges or questions of intellectual freedom and library ethics.
Find out how you can increase the impact of your school library instruction, promotion, and organization with the utilization of infographics created with do-it-yourself tips found within this guidebook.
Working with at-risk teens, including those who are homeless, incarcerated, or in foster care, is a rewarding but often challenging endeavor, especially with a growing number of at-risk teens in both urban and rural areas of the country. Based on best practices and personal experiences from many leaders in the field today, including authors Angela Craig and Chantell L. McDowell, this book from YALSA shows how libraries and communities can work together to find new ways to serve this population.
In Serving Online Customers: Lessons for Libraries from the Business World, Donald A. Barclay carefully examines business literature to identify the best customer service practices of online companies and shows readers how to adapt these practices to the library environment.
Teen parents and their children represent an underserved, high-need population in many communities. Serving Teen Parents: From Literacy to Life Skills helps library staff support teen parents as their children's first teachers, positively affecting two generations at once.
Offers practical advice on how best to serve veterans, service members, and their families in your community, including effective ways to develop new outreach partnerships and collaborations.
Sizzling Summer Programs provides the creative spark for libraries committed to working with teens and preteens through summer programs. Enthusiastic colleagues nationwide share more than 50 successful programs, including nitty gritty details like handling registration, getting donations, creating partnerships, tracking reading, and promoting programs. Reading incentives, community service and volunteering, as well as programs for special teen populations (the homeless, incarcerated, or parents) make this a comprehensive and inspiring reference.
The Small or Rural Academic Library: Leveraging Resources and Overcoming Limitations explores how academic librarians in such environments can keep pace with, create, and improve modern library practices and services, network with colleagues, and access continuing education and professional development opportunities.
Librarians in small libraries wear many hats. This handbook written by experts who are small librarians themselves will help all small librarians to do multiple jobs at the same time.
Social media allows you to scale up a core librarian practice connecting your community to information and learning across geographic boundaries, 24/7. Addressing curation, as the term is used colloquially, this issue of Library Technology Reports draws from 17 in-depth interviews to show how libraries are using social media to collect, organize, share, interpret, and in short, how to tell a digital story to a specific audience. Additionally, the authors use data, collected through an online survey that encompassed all library types, to offer a snapshot of this important collecting-connecting-curating-contributing practice.
Social Networking for Schools uniquely identifies the three core ways that social media can be integrated within a school: as communications tools, as instructional tools, and for professional development. The collaborative effort of a former school librarian and current school administrator with a practicing school attorney, authors Steven M. Baule and Julie E. Lewis bring perspectives and critical insights to the topic not normally considered in similar literature.
Special Libraries: A Survival Guide analyzes what has happened, and is still continuing to happen, to corporate libraries in order to identify the strategies that must be taken to protect their staff's survival. Through a careful examination of a series of case studies of corporate library reductions and closures, authors James M. Matarazzo and Toby Pearlstein suggest key strategies, tactics, and survival tools that all types of special library managers can use to minimize their chances of becoming a victim.
Library cataloging and classification tools are constantly improving, making this concise guide a necessity for any librarian or library student seeking improved understanding of the practical process of cataloging today. With the release of RDA, a new code for description, and a new edition of Dewey Classification, it's time for every library to add this fifth edition of a classic reference to their resources.
This helpful resource provides all-new tested, standard-based lessons accompanied by reproducible handouts and easy-to-follow directions for every grade level K–5. It provides a time-saving tool for school librarians and educators in teaching integrated information literacy skills and features lessons that are coordinated with the Common Core State Standards, the McREL Compendium of Standards and Benchmarks and the AASL Information Literacy Standards.
"But, this is how we've always done it!" Objections to taking a fresh tack are about as common as budget shortfalls, and the two are more closely related than you might think. At the Craighead County Jonesboro Public Library in Arkansas, the author and his colleagues defied common practices by using creative risk-taking in marketing and outreach to transform their library into a dynamic institution that continues to grow and thrive. Here, they recount their story, sharing techniques for success alongside a provocative marketing philosophy that will spur libraries to move beyond their comfort zone.
In order to develop a young adult department from the ground up, librarians need to be informed about a myriad of interrelated tasks and responsibilities: creating policies, purchasing materials, program scheduling, outreach, and budgeting. This book covers all steps in the process of becoming a successful teen librarian, from getting the job and advocating for a teen department to adding qualified staff and ongoing professional development.

Statistics for Library and Information Services: A Primer for Using Open Source R Software for Accessibility and Visualization

Statistics for Library and Information Services, written for non-statisticians, provides logical, user-friendly, and step-by-step instructions to make statistics more accessible for students and professionals in the field of Information Science.
Storytelling: An Encyclopedia of Mythology and Folklore brings past and present cultures of the world to life through their stories, oral traditions, and performance styles. This appealing resource includes specific storytelling techniques as well as retellings of stories from various cultures and traditions.
This practical guide provides a scalable, step-by-step plan for creating and maintaining a successful library social media strategic plan. You'll find detailed tips and advice on strategizing for social media services in a way that guides employee decision-making, maximizes efficiency, creates positive patron outcomes, protects against legal repercussions, and builds opportunities for flexibility, change, and new social media platform testing.
Obtaining the funding to maintain and grow library services and resources has always been a challenge. Successful Library Fundraising: Best Practices brings together a wealth of information from public, academic, special, and school libraries who share their successful approaches to raising funds through a variety of traditional and "outside-the-box" methods.
Whether they're high school students taking the traditional path of entering college, or adult re-entry students, navigating the admissions and financial aid process can be overwhelming for the college bound. Public libraries can help provide information and guidance for a successful start, and this book shows how to do it.
Written by librarians, this collection of new essays describes an array of technology outreach and instruction programs, from the theoretical to the practical, based on case studies and discussions of methodology, for public, academic and school libraries. Content includes out of the box lessons, outreach successes and technology instruction programs applicable to both patrons and staff
Featuring contributions from librarians who offer hard-won advice gained from personal experience, this compendium leads readers through a step-by-step process of creating a library technology disaster response and recovery plan. This LITA guide outlines the three phases of technology disaster response, with examples of planning and implementation strategies from several different libraries.
Stay current, meet educational standards, and keep your students coming back again and again by incorporating the latest technologies into your school library.
From the authors of the enormously popular Hipster Librarian's Guide to Teen Craft Projects comes an all-new selection of innovative ideas. These projects have been chosen especially to engage tweens and teens and have been field-tested by YA librarian Amy Alessio's Teen Corps, students in grades 6-12 at the Schaumburg Township (IL) Public Library.
The rigors of today's mandated academic standards can repurpose your library's role as a steward of the Common Core State Standards (CCSS) at your school. Created for teachers of grades 6 through 12, this guide will help you help present exciting, field-tested lessons that address developmental steps and individual differences in key competencies in the CCSS.
This guide will help you help teachers present exciting, field-tested lessons for elementary grades K through 5, addressing developmental steps and individual differences in key competencies in the Common Core State Standards. Authors and educators Mary Ratzer and Paige Jaeger illustrate how brain-based learning helps students become deep, critical thinkers and provide the lesson plans to coax the best thinking out of each child.
While it's inspiring to ponder the libraries of the 22nd century, it's a lot more practical to think ahead to the next five years. That's just what the author and his hand-picked team of contributors have done, showing library technology staff and administrators where to invest time and money to receive the greatest benefits. Their ideas will stimulate strategic thinking and help library staff make informed decisions about meeting user expectations and delivering services.
This wide-ranging survey takes stock of our institutions' strengths, weaknesses, opportunities, and threats, analyzing how libraries and the very concept of librarianship have been comprehensively transformed over the past few decades. A respected veteran of libraries who has witnessed first-hand the many changes in the library world, Woodward provides a balanced, realistic look at the situation confronting both libraries and information professionals.
This practical and thorough guide offers clear explanations of what transmedia storytelling is and shows how it can be integrated into library programming that fosters multimodal literacy with K–12 learners.
Censorship controversies can involve the public objecting to a book in the collection, venues for displays and meetings, and sometimes library staff themselves are tempted to preemptively censor a work. Those facing censorship challenges can find support and inspiration in this book.
Ideal for students and both beginning and practicing catalogers in public, school, and academic libraries, this updated workbook offers targeted, hands-on exercises that enhance understanding of description, classification, subject analysis, subject heading application, and MARC 21 subject analysis.
Do you want to improve the usability of your library website but feel that it is too difficult, time-consuming or expensive? In this book you will learn that in-house usability testing on a budget is not only feasible, but it is practical, sustainable, and has the potential to lead to remarkable improvements of the content, design, and layout of your website.
Learn how to teach visual literacy through photography, an easy way for you to combine student interest with resources at hand to enhance a key learning skill.
Using iPhones and iPads: A Practical Guide for Librarians offers library professionals a clear path to Apple readiness. The authors, a librarian and a software developer at a prominent research library, combine their experience in library public services and mobile technology to provide easy-to-follow, step-by-step instructions to help you get up to speed. Whether you work at a large academic institution or a small public library, this book will show you how to become iDevice-literate quickly and easily.
The easy-to-use tools in Springshare's LibGuides help you organize web pages, improve students' research experience and learning, and offer an online community of librarians sharing their work and ideas. Editors Dobbs, Sittler, and Cook have recruited expert contributors to address specific applications, creating a one-stop reference.
This book highlights examples of disaster situations in recent years in which social and information technologies were useful in distributing and receiving information updates.
Here's a book that describes Web 2.0 tools in-depth, models Web 2.0 tools through classroom examples, explains how to get started with each tool, presents practical unit plans illustrating the use of Web 2.0 in the K-12 content-area curricula, and identifies and describes what tools are most useful to educators for networking, productivity and insight into the technologies.
This book teaches all of the essentials for designing and creating a simple, professional-looking website for any library. By using cut-and-paste templates from familiar software programs, readers can create complex websites in short order without learning confusing HTML coding. Three final chapters cover using style sheets, address the potential benefits of HTML5, and overviews content management system based websites.
A practical guide to using web metrics to measure impact and demonstrate value. The web provides an opportunity to collect a host of different metrics, from those associated with social media accounts and websites to more traditional research outputs. This book is a clear guide for library and information professionals as to what web metrics are available and how to assess and use them to make informed decisions and demonstrate value.
This book shows how to enhance an institution's presence on the Web with tools that integrate a variety of handy, popular programs. Application Programming Interfaces (APIs) are software tools that help different programs work together. The book shows readers how to integrate these into existing library websites as well as use them to launch new kinds of services.
"No! We can't rid of that!" Vnuk, author of the popular "Weeding Tips" column on Booklist Online, is here to show you that yes, you can. A library is an ever-changing organism; when done the right way, weeding helps a library thrive by focusing its resources on those parts of the collection that are the most useful to its users. Her handbook takes the guesswork out of this delicate but necessary process, giving public and school library staff the knowledge and the confidence to effectively weed any collection, of any size.
Privacy is now an area of major concern as the use of social media, web beacons, tracking cookies, webcams, GPS-based cell phone tracking, and other 21st-century technologies increasingly proliferate. Educators who work with minors have specific responsibilities to protect the personally identifying information of those minors. Unfortunately, U.S. privacy law is a mystifying patchwork of federal and state laws. Authored by an experienced attorney who specializes in copyright and privacy law, this book overviews laws pertinent to educators and explains how to recognize, analyze, and handle privacy issues as they arise in specific situations in the educational context.
Here is a treasury of favorite and little known tales from Africa, Asia, Europe, the Americas, Australia, and Oceania, gracefully retold and accompanied by fascinating, detailed information of their historic and cultural backgrounds.
This book covers writing for both print and Web-based publications and is aimed at all types of libraries. You will learn how to: define your audience and your primary messages; simplify your writing so that it is succinct and understandable; structure your written content so that it is most usable and accessible to your audience; approach different forms of writing in a way that is most effective to getting your message across; and establish a voice and tone that reflects the identity of your organization and yourself as a professional.
Building on the wealth of work on library descriptive practices, cataloging, and metadata, XML for Catalogers and Metadata Librarians explores the use of XML to serialize, process, share, and manage library catalog and metadata records. The authors' expert treatment of the topic is written to be accessible to those with little or no prior practical knowledge of or experience with how XML is used.
This book provides an easy-to-follow blueprint for using collaborative techniques, innovation, and teaching for creativity to achieve the new learning paradigm of self-directed learning, such as flipping the classroom or library. Readers of this book will find concrete, step-by-step examples of proven lesson plans, collaborative models, and time-saving strategies for the successful integration of American Association of School Librarians (AASL) standards.